Lighthouse N95 Benefits
Personal Protective Equipment commonly referred to as "PPE," is worn to minimize exposure to hazards that cause serious workplace injuries and illnesses. N95 respirators are personal protective equipment that protects the wearer.
Our Oregon Made N95s are fit test champions that outperform every other N95 on the market in these critically important categories. We are well positioned to help eliminate the supply chain uncertainty, pricing volatility and inferior product quality pain your team may have experienced during the COVID pandemic.
Our N95s are Fit Test Champions!
Our N95s have been designed to securely fit a wide variety of face shapes and sizes, allowing hospitals and agencies to stock less styles of respirators. Our customers and fit test consultants all report that our N95 has higher fit test passing rates and scores than any other N95 disposable respirator.
Superior Breathability:
Our N95s have proven to be the most breathable and comfortable respirators in their class. They are approximately 30% more breathable (when measuring inhalation resistance) than other N95's in the same class, and up to 5x more breathable than some cone shaped N95's. Greater breathability = greater comfort and less headaches that many experience as a result of wearing N95s. Greater breathability and comfort = happier personnel!
Ergonomics/Safety:
We have a patent pending feature that reduces the blockage of the lower peripheral vision caused by most respirators. Opening the lower peripheral field of vision helps to reduce neck strain, as well as reducing tripping hazards. Less neck strain and reduced risk = greater comfort and better protected personnel!
No Staples:
We have a patent pending feature that allowed us to remove staples from the respirator. Our weld pattern is 20% stronger than staples, which results in less breakage as users don the respirator, remove and don again after lunch breaks, etc. As you and your team know, if a respirator needs to be stapled again, doing so compromises its performance.
Minority Woman Owned Business:
Our CEO, Dr. Tae Yun Kim is a native of South Korea and a Korean War Survivor. Dr. Kim founded our company 40-years ago and is still the primary owner. If supplier diversity is an important value to you and your team, we can check this box for you also.
MADE IN THE USA!:
We are one of only two companies that are headquartered in the United States that are manufacturing the 3-fold flat-panel style of disposable surgically rated N95 respirator in the USA! We have reliable redundant sourcing on our raw materials, most of which are manufactured by American owned companies, many of which are manufacturing in North America and Mexico, which eliminates the risks associated with overseas cargo container related shipping delays.
Healthcare MEDI-Shield Masks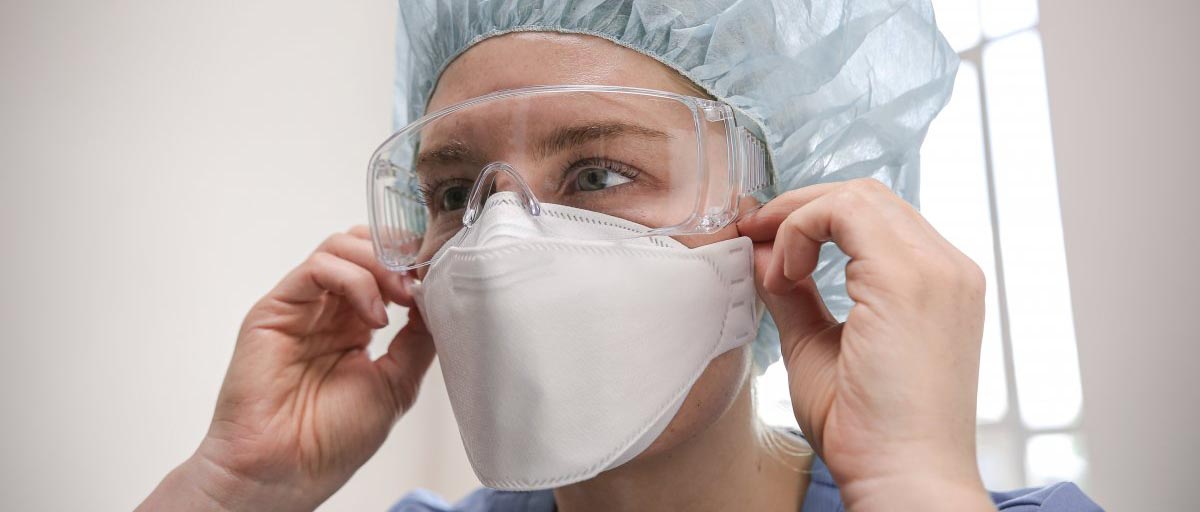 The Fit Test Champion
Lighthouse Worldwide Solutions has developed the SHIELD-95-MEDI surgical N95 disposable respirator to fit more comfortably and securely than any other respirator on the market. The SHIELD-95-MEDI focuses on what matters most to the end-user: fit, breathability, visibility, and durability. Our customers have told us the SHIELD-95-MEDI is a "fit test champion," checking the boxes in fit, comfort, and breathability. In addition to a good seal, we know visibility is also crucial; our patent-pending ClearView Bar can increase your peripheral viewing angle up to 30%. As an ASTM Level 3 surgically rated / NIOSH N95 certified respirator, the SHIELD-95-MEDI is the ideal choice for healthcare workers and all others who require a superior quality and high performance surgical N95 disposable respirator.
NIOSH # TC 84A-9431
Details:
Material Composition:

*This product contains no components made from Natural Rubber Latex

Filter: Polypropylene
Nose Foam: Medical Grade PVC
Nose Clip: Dual Iron Core Polypropylene Coated Wire
Coverweb: Polypropylene
Head Straps: Polyisoprene

Fluid Resistance: ASTM 2100 Level 3 (160 mmHg)
Flammability Rating: Class 1
Shelf/Storage Life: 3 Years from the date on the box (YYYY-MM-DD format)
Storage Temperature Limits: Between -4°F (-20°C) and +86°F (+30°C)
Storage Relativity Humidity Limits: Not Exceeding 80% RH
Country of Origin: Made in the USA
Manufactured By: Lighthouse Worldwide Solutions